The Chesen Difference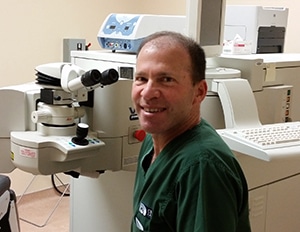 Having LASIK can be a wonderful, life changing experience that can result in better vision and better quality of life. However, while LASIK can be an amazing procedure, your decision on where to go should not be made lightly. There is no question that when considering LASIK, one of the most important factors is having complete confidence in your surgeon and the technology used. Excellent results depend on making a well-informed educated decision.
ONLY permanent onsite laser in Berks County and Lancaster
Dr. Chesen meets with all of his patients personally for all their appointments
Dr. Chesen has over 25 years of experience.
Dr. Chesen has performed thousands of procedures.
Over 98% of Dr. Chesen's LASIK patients see 20/20 or better.
At Chesen Laser Eye Center, our mission is to provide individualized vision care for each of our patients in a friendly and professional environment. Our high standards for excellence in personalized care enable us to provide our patients with the attention they deserve. We know every patient's vision correction needs are different, so there is no "one size fits all" approach here. We have invested in state-of-the-art technology available to completely customize a procedure that will be just right for your eyes. In fact, Dr. Chesen owns the ONLY permanent onsite laser in Berks County and Lancaster. The optics of the laser are carefully monitored in Dr. Chesen's temperature and humidity controlled laser suite 24/7. And you will find added peace of mind knowing that with over 25 years experience, Dr. Chesen is dedicated to providing exceptional care and unsurpassed results for each and every patient. In fact, over 98% of Dr. Chesen's LASIK patients see 20/20 or better after surgery.
Rest assured when you choose Chesen Laser Eye Center for LASIK, you can be confident in Dr. Chesen's commitment to be there every step of the way. See for yourself the Chesen Difference – call us at 610-372-2343 to schedule your complimentary LASIK screening today.